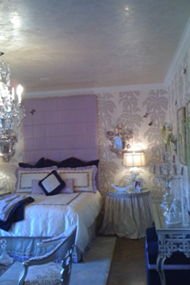 Even as the economy appears dull and gloomy, the winter doldrums cast a dark shadow, designers and homeowners are creating rooms and home environments that are anything but. The paint colors for 2010 are bright and optimistic. Benjamin Moore's color experts even chose a zippy apricot yellow as a top interior décor color for 2010.
The painters at Harbor Painting agree. "People are making bolder, richer color choices," says Mark Clayton, president of Harbor Painting in Huntington. "Rather than safe whites and beiges, homeowners are selecting colors that make them feel good. Bright yellows, corals, teals, violets-colors that make a statement. As long as a room has the right type of lighting, there's no reason to be afraid of color."
Green, a trend that's been gaining momentum for several years, remains strong for 2010. Some of the shades are going grayer or more yellow, but Mark sees green increasingly used as neutral and paired with almost any other color. Green is becoming the new beige.
Black and dark grey paint, once forbidden, has been a choice color for some of Harbor Paintings' clients and is expected to make a strong showing in 2010. "The look is opulent. Especially in faux finishes such as Marmorino plasters and our own version of "antico damasco," explains Mark. "And when it's paired with a neutral trim, the final result can be outstanding," he recalls proudly describing a dining room he recently completed.
When Mark, President of Harbor Painting, consults with clients about wall treatment choices, he encourages them to imagine a room with everything it's ultimately going to have. "I ask to see samples of the carpet, rugs, curtains, fabric choices for furniture-anything that's available. The more information we have, the easier it is to choose the perfect color. I try to help clients understand that it's easier to find a wall color to match a fabric than to find a fabric to match a wall color."
With the slow housing market, many homeowners are redecorating rather than moving and that can mean reinventing or working with what one already has. "We are doing quite a lot of cabinet and built-in furniture refinishing, applying a fresh, new color to what's there," Mark says. "People are reinventing their homes with paint."
Whatever the color scheme, Harbor Painting emphasizes the importance of proper product selection, application and preparation. "Choosing the perfect colors for your home is an important part of the process, but preparation is the key. Inspecting, skimming, patching, sanding and priming, whether you do it yourself or hire experts, is essential for a dramatic and professional result".
Founded in 1993, Harbor Painting provides homeowners, designers and high-profile commercial establishments with high-end decorating services. Widely regarded as a leader in the fields of painting, plastering, faux finishing, and exterior and interior maintenance, Harbor Painting customizes our repertoire of finishes and wall covering techniques to create unique environments and reflect the personality of our clients.