Venetian Plaster Finishes Oyster Bay, NY 11771
Since 1998 Harbor Paints and Fine Finishes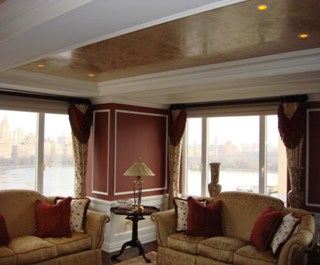 has been
Creating Exquisite Marmorino and Fine Venetian Plaster Designs
Our Complimentary Color Consultation, Color Matching & Attention to Detail
Will Make Your Home the Envy of Your Friends
Here are Just a Few of the Reasons Why
We are Continually Referred by Our Clients
for Marmorino and Fine Venetian Plaster Designs
* Complimentary Color Consulting
* We Custom Make Our Own Colors
* We Can Color Match and Create Complimentary Colors
* We Create a Sample for Every Project for Your Approval
* Over 12 Years of Hands-on Experience with these Specialty Finishes
* Our Applicators have a Minimum of 60 Hours of Training
* Experience with All of the Major Manufacturers (Each product performs differently)
* Annual Training to Stay on Top of Design Trends
Creating Meticulous Designs Is A Craft That
Very Few Of Our Competitors Have The Needed Experience In
We understand that our clients are making an investment in their home and they want to feel proud every time they walk into the room and see the design.
The painting and decorating trade requires a set of skills that requires constant learning about new materials, application methods and processes that add to the beauty and longevity of your Marmorino or Venetian Plaster project.
We don't just say that our team is dedicated to best practices; we make the time and investment to earn them.
We continually invest in training for our employees. Our applicators have a minimum of 60 hours of training plus hands on experience so you can feel comfortable that they won't be learning on your job.
We'd like to show you how we are doing something unique in specialty finishes. It is possible for a project to be done right the first time without hidden charges, hassles or poor quality that are all too commonly found.
I encourage you to carefully review all of the information on our website so you can make the best decision in choosing a painting contractor to make your home the envy of your neighbors, friends and relatives.
To schedule your complimentary consultation please complete our contact form at the right or simply call Mark Clatyon at (631) 385-4405.