Exterior Painting
At Harbor Painting we will ensure that your home looks its absolute best; in addition to giving your home a great first line of defense against dust, the elements and the wear of time.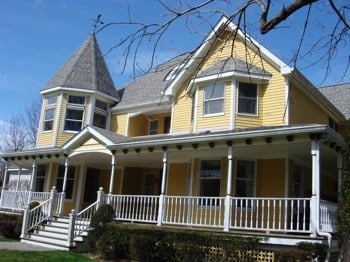 As a one stop painting company we're confident that we have everything you need for a great new exterior painting job for your home.
A new house look, without buying a new house!

We understand how much you care about your house, and we make it a point to be the exterior painting company that you come to for a job you can trust. Our great quality exterior painting service isn't just an excellent way to quickly freshen your home's appearance - it's a tough, long lasting solution for keeping the home that you love in great repair. We're really proud of our line of exterior painting services, and even offer our customers free estimates and color consultations to make your new paint job one of the easiest decisions you'll have to make about your home.

Painting is what we do best, and we're invested in making sure that it's done right. We work hard to ensure that surface preparation is done correctly so that your paint will last and last and you'll be proud to stand behind your decision of working with us. We're focused on staying at the forefront of our industry, and invest a lot of time and energy in keeping up with the most effective techniques and the best new products. When you choose us for your exterior painting job, you're choosing an informed and engaged company that really cares about delivering the very best experience.

We take a lot of care to ensure that your home's paint job is beautiful and durable every time. Between our commitment to great techniques, our devotion to hiring the most well trained, expert professionals, and our dedication to great quality products, we're sure that you'll be thrilled with your new paint job. When you choose us for your home's exterior painting needs, you can expect a brand new looking, long lasting finish that really shines.
If you've been thinking about what a new coat of paint could do for your home, then it's definitely time to get in touch with us. Give us a call today to learn more!