Services
Color Consulting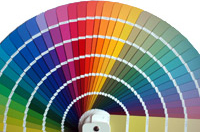 Color speaks volumes about our homes, influencing not just how they look, but how they feel too. Of all the elements in a room, it is the colors that evoke an emotional response, creating an atmosphere of relaxation, coziness, airiness or excitement. To be able to create such ambiance quickly and easily by wielding a paintbrush would be thrilling if it came easily, but for many people putting colors together can often be fraught with stress and anxiety. Faced with a choice of more than 2,500 colors offered by many paint manufacturers, choosing the perfect color can be daunting.
Whether you are working with a design professional or you have decided to go it alone, Harbor Painting is here to help. We have been working with the area's most accomplished designers for more than 15 years, helping the most discerning clients select the colors that are perfect for their homes.
Additional resources www.benjaminmoore.com
Also see: PQI Color Designer.